NEWS
MOSHI MOSHI NIPPON FESTIVAL 2014
FREE entrance for non-Japanese citizens!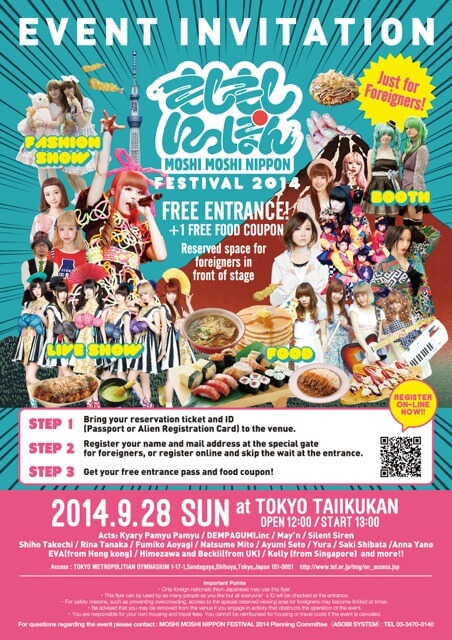 MOSHI MOSHI NIPPON is part of an initiative to help improve tourism and promote Japanese Pop Culture throughout the world.
Sending out Japanese Pop Culture to the world! With live performances from Kyary Pamyu Pamyu and Denpagumi.inc, a fashion show and lots of booths (free hair set!!!), there's so much to do on Sunday, September 28th, when we see you at the MOSHI MOSHI NIPPON FESTIVAL 2014.

There is even a Special Live Viewing Area Reserved Just for non-Japanese citizens!
Checkout the DJ stage and enjoy Japanese festival style "yakisoba" and "takoyaki" from the food area. Enjoy festival style games such as ring tossing and target practice and take photos with your friends in front of the photo panel snap area. There's so much to do inside and outside the venue.

Process for Obtaining an Invitation Ticket
Please register from the official event site. On the day of the event bring your invitation ticket (QR code) and a valid passport or alien registration/resident card. Staff will verify your invitation and exchange it for entrance ticket plus a food coupon.

 
ACTS
MODELS FROM OVERSEAS
EVA
(Hong Kong )

Kelly
(singapore)

VIENNA
(Thailand)

Himezawa
(UK)

Beckii Cruel
(UK)

Ines
(France)

Delphine
(France)
EVENT DETAIL
Title:MOSHI MOSHI NIPPON FESTIVAL 2014
Locations:Tokyo Taiikukan
Dates:September 28, 2014 Door Open 12:00 Start 12:20
Contents:KAWAii!! STAGE / JAPAN BEAUTY AREA / POP CULTURE AREA / JAPAN FOOD FESTIVAL / OUTDOOR STAGE and more!!!
Fee:Advance:¥3,500(including 1 food coupon and tax)
※non-Japanese citizens can participate for free by invitation and ID (passport or residence card)
※Entrance restrictions will apply if the venue reaches full capacity.
※There are limited numbers of food coupon for foreigners

【MOSHI MOSHI STAGE】
The MOSHI MOSHI STAGE will offer renowned Japanese pop culture! The stage will showcase all kinds of entertainment including live music and fashion shows with many popular J-Pop artists and models from Japan and overseas!

Artists:
Kyary Pamyu Pamyu, Silent Siren, SUPER☆GiRLS, Dempagumi.inc, TEMPURA KIDZ, May'n

Models:
Shiho Takechi, Rina Tanaka, Fumiko Aoyagi, Natsume Mito, Saki Shibata, Ayumi Seto, Yura, Culumi Nakada, Saki Sato, Anna Yano, Misa Kimura, Hikari Shibata, Yuna Yabe, Hiko Achinami, Rinko Murata, Hitomi Ueno, Mai Nakaseko, Ren Koseki, Asaka Taniguchi, Ema Tanioku, Eri Tanioku, YuRi, Kazuki Yamamoto, Takeshi Oka, Ryo Ueno, Kazuki Maeda, Kaiki Ohara, Yuka Kamioka, POCHI, Sakura Goto, Ayaka Ikeda, Ami Kondo, Risa Ebihara, Choma Tokui, Ayu Tsuruoka, Omochi Maekawa, Shein Ozawa, Karin Hagino, Rina Kawamoto, Kemio, Youji Kondo, Momoko Sadachi, Mizuki SHiraichi, Devil, Beck, Peco, Hikaru Yokota, Hinano Yoshimura, EVA, Kelly, VIENNA, Himezawa, Ines, Beckii Cruel, Delphine and more!

Guests & MC:
Sebastian Masuda, NEEKO, Natsuko Kondo, Rei Mastrogiovanni and more!!!

【NIPPON STAGE】
Experience Japanese pop culture at the Nippon Stage! More than 20 artists will perform to rock the crowd! What's more, there will be a number of meet-and-greet sessions, including Idol Yokocho's famous "Tsuribori Yokocho" in the MATSURI AREA.

Artists:
Idolrenaissance, Ange☆Reve, ANNA☆S, FYT, CAMOUFLAGE, Caramel, GALETTe*, Cupitron, Stella☆Beats, DIANNA☆SWEET, Cheeky Parade, Tsuri Bit, TOKYO TORiTSU Korede Iinkai, drop, Shiho Namba, Niji no Conquistador, NEKO PUNCH, Hanae, Mimi Meme MIMI, Yamaguchi Kassei Gakuen, Una, Yun*chi, Luce Twinkle Wink☆ and more!!!

【MATSURI AREA】
Our incredible street performers will greet you on arrival! You can enjoy festival style food including yakisoba, takoyaki, crepe and ramen as well as games such as ring tossing and target practice! A number of DJs will perform on stage, and fashion magazines will hold street snap events!

【BOOTH AREA】
Come to the booth area to experience various aspects of Japanese pop culture from fashion to beauty! Several booths will offer meet-and-greet sessions with leading aomoji-kei models! Don't miss out on these super rare opportunities!

Organizer:MOSHI MOSHI NIPPON Executive Committee
Production:ASOBISYSTEM Co., Ltd. / ASOBIWORKS Co., Ltd. / HOT STUFF PROMOTION
Contact:HOT STUFF PROMOTION(03-5720-9999 Weekday 12:00~18:00)